Frugal Living In The Times Of Demonetisation
December 7, 2016 . 466 views
Yeah, so our PM pulled out an explosive one out of the bag this month. With the 500 and 1000 rupee notes being the new black (see what we did there?), frugality is the hottest fashion trend.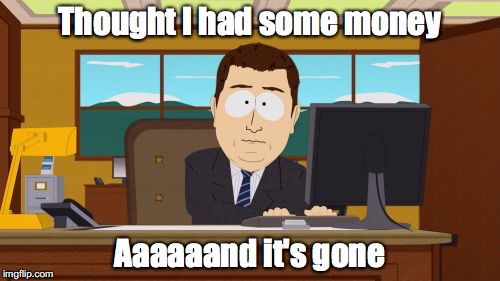 Living a simple, by-the-budget life has been commonplace for many households. But it's time now for the spendthrift, luxury-loving, online-shopping, weekend-raging segment of the society to rein in their splurges.
How are they doing it and are they doing it well? Let's find out!
No-Spend November

After the 'Go-All-Out October' that everyone had, thanks to Diwali shopping and gift giving/receiving, it was time now for No-Spend November.

Talk about rising to the occasion! People took up the challenge to spend as minimally as possible by observing 'no-spend days' and buying only the absolute necessities.


Cash to Cashless

You know it's serious when you see the elder generations scrambling to find their ATM and net-banking pins and passwords!

The normally cash-dependent public and businesses are trying to learn the ropes of E-wallets, hitherto the domain of the young 'uns.

Read more about going cashless

Cheque it out

Remember the movie villains of old who could whip out a chequebook from their pockets to offer the hero money?
Well, it's time now to go retro and bring out those chequebooks again. From paying utility bills, doctor's consultation fees to salon bills, cheques are being accepted and even encouraged at most places.

All because nobody wants to go around asking for a change for the 2000-rupee note!


Bring Out the Budget Apps

And you thought budget apps were only for the young and inexperienced!

Apps such as Mvelopes, Fudget, Expense IQ, Wally, Mint, etc. are all the rage. They help you track and manage your household and other expenses, which in these tight financial times, are like manna from heaven.

Pinching the Pocket Money

If you've noticed that the regular collegiate jaunts are less crowded than usual, it's probably because even college students have felt the pinch in their allowance. Think less junk food and more dabba party!

Here's a tip: Best wait for your folks to sort out their finances before you ask them for money to watch the new Friday release.

Curbing those Consumer Urges

So you had major plans to spend the cash your elders gave you for Diwali on shopping? Alas, the bank queues beckon!

It was supposed to be the season of wedding shopping, Secret Santa gifts and planning your NYE shindig. But with the budget crunch and swiping your card for every little expense, it has become the season of budget crunches and controlling spending urges. *sigh*

Skipping that Salon Trip

The wedding season is in full swing, and you'd expect salon trips and spa days would be popular. Well, not so much.

Think DIY facials, YouTube make-up videos and that curling iron you bought but never used.

Also, maybe consider a no-shave December to avoid that trip to the barber's?

Frugal Foodie

The '1+1 pizza offers' and happy-hour SMSes can keep pouring in, but every household that's on a budget has decided to cool it with the eating out and ordering in. Except, perhaps, that odd weekend treat.

It's time for nice, home cooked meals for days, made from all the groceries you practically hoarded from the supermarket with your old 500/1000 notes.


Care to Share

From carpooling with one's least favourite colleague to sharing one's wedding season wardrobe with their siblings and friends, everyone is trying to find a way to spend less and get the most out of what's available.

While this greatly curbs wastage of resources, it's heart-warming to watch everyone show how much they care by sharing with others.

That is, until you have to pay for that friend who never has change.

Cheat Days

Admit it, everyone's cheated once in a while.
Took an auto instead of the train. Ordered dessert in the restaurant after dinner. Brought that new pair of sunglasses because they looked so amazing on you.

But you know what they say, a cheat day once in a while, keeps overspending at bay.

Is demonetisation a good move? Is it going to solve the black money problem? The answers to these questions may not be part of the syllabus just yet. But this bold move has definitely made people realise the distinction between luxury and necessity and revisit the forgotten art of frugality.
Subscribe
Get unlimited investment tips.
Free Forever.