From Cash to Cashless: Demonetisation & Digital Money
December 8, 2016 . 461 views
For as long as you can remember, your friendly neighbourhood 'subziwala' has somehow always managed to give you change for a note of any denomination. He's your hero.
Cut to a week after the announcement that 500 and 1000 rupee notes cease to be legal tender: You go to the market with a crisp 2000 rupee note in your pocket, only to find your subziwala bhaiyya has moved on to Paytm. Tch tch!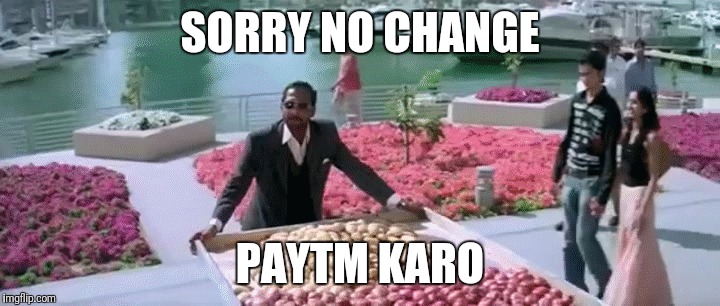 Welcome to what could be termed one of the biggest transitions that India has gone through in recent times – a marked shift from cash to cashless.
While before it was quite common to see men pull out a thick wad of cash from their pockets, they can now be spotted getting acquainted with the slim and powerful plastic cards and e-wallets. Here are a few ways in which our cash-loving citizens are adopting and adapting to the idea of a cashless economy:
Credit/Debit CardsFor a majority of the people, Conventional is King. A credit or debit card can get them through most of their needs, such as shopping, commuting and dining out. The youngsters swear by it and their elders have been using it for emergencies only. Not anymore. It's time to swipe away!
NetbankingIf there was ever a time to convince your parents and grandparents to switch to netbanking, this is it.

No, it won't help you skip the long bank and ATM queues. But what it will do is allow you to conduct bigger transactions with the click of a mouse. Still a win, right?

NEFT, IMPS & UPILet's face it: nobody wants to spend the cash that they have right now. Unless it involves getting change for the 2000-rupee note.

So then how do you pay back your friend who swiped his card to pay for your dinner last night? That's where these awesome abbreviations come in. National Electronic Fund Transfer (NEFT) and Immediate Payment Service (IMPS) allow you to instantly transfer money from your account to another's across different banks.
Another excellent platform you need to get down with is the Unified Payment Interface (UPI), which is a system that lets you manage multiple bank accounts in one mobile app.

e-Wallets


We have got two words for you: Paytm Karo.

— Paytm (@Paytm) 8 November 2016

With the same efficiency as their marketing campaign, the most popular e-Wallet Paytm has managed to ease the transition from cash to cashless for over 150 million users in India. The others such as MobiKwik, Freecharge, PayUmoney, etc. Have reported a phenomenal hike in estimated users and daily transactions.

From paying for cabs to buying groceries to everyday transactions of businesses that run solely on cash, e-Wallets are total lifesavers and keeping the economy going.

Apps GaloreApp stores these days are like a genie in a bottle. You wish it and there's an app for it. There are apps to find out what apps you need. Go figure.

Thanks to this infinite world of apps, you can now order food, purchase movie tickets, shop for everything from potatoes to Prada, and book flight, train or bus tickets using digital cash, without spending those precious 100 rupee notes.

What's more, you can hire someone to stand in bank/ATM queues for you via an app. All hail the mighty computer geeks!

While most countries such as USA and UK have embraced the cashless culture for a while now, India has always been reluctant to choose plastic over paper. But in the words of Bob Dylan, which our honourable PM quoted in his recent speech before Coldplay came on stage,

Subscribe
Get unlimited investment tips.
Free Forever.