10 Ways Demonetisation Put a Dampener on the Wedding Season
December 12, 2016 . 231 views
Imagine if an outsider were to read about India's demonetisation situation.
Then, right after, they would glance at headlines about the extravagant weddings of daughters of politicians such as Nitin Gadkari or G Janardhana Reddy.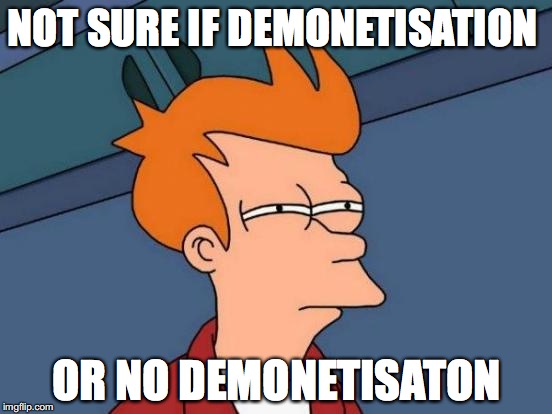 Two extremes? While the top tier may have managed to sail their wedding boats through the sea of cash troubles, there are many of those who were left stranded and struggled hard to get ashore.
Here are 10 ways demonetisation has taken this year's wedding season by storm.
Bank Queues before Banquets


While being able to withdraw 2.5 lakhs may have brought some respite to families with weddings, it also meant navigating a series of bank queues before they could check out banquets and book caterers.

However, before they could get their hands on the coveted cash, they had to provide reams of documentation, such as wedding cards, bills of payment and a declaration from the vendor being paid in cash about not having a bank account. Phew!

Low on Lavishness

When it comes to wedding venues and decor, we've seen it all, from spanish gazebo-themed weddings to Disney Castle themed ones. It's not a rare sight to spot grooms' limos and silver chariots mingling with the city traffic during this time of the year.

But this wedding season seems to be rating a solid 'low' on the lavishness scale, with many couples opting for smaller venues, simple decor and less ostentatious 'baraat' processions.

Pruning the Guest List

If you thought putting together a wedding guest list was tough, think of how much time and effort would be needed to prune one, particularly if the list is already a pretty tight one.

With smaller venues and limited expenses comes the limit on the number of guests. So, remember your aunt's sister-in-law's daughter's mother-in-law you used to hate? Yep, it's legit okay to not invite her.

Buffet on a Budget

Gun to your head, if you had to truthfully answer what's the best part about the wedding season, you'd blatantly say 'Food'! And with the extensive menu trends seen at weddings in the last few years, gluttony is irresistible.

Alas! There won't be any 50 Shades of Gourmet this wedding season, folks! Slashing elaborate menus is an easy way to cut down on expenses and people are definitely considering it (maybe expect one ice cream flavour instead of three?).

Source: 3 Idiots

Cutting back on the Celebrations

Did you feel confused when the invitation card held an invite for just the main wedding function? What happened to the other functions?

While weddings these days are grand, week-long affairs with several functions such as sangeet, mehendi, cocktails, etc. apart from the main wedding, many families have had to cancel most of the extra shindigs due to money troubles.

Source: Yeh Jawaani Hai Deewani

Where's the bling?

Whether it's your wedding or you're attending one, your wedding season wardrobe is a major deal. From latest designer threads and shoes to jewellery and makeup, everything has to be Snapchat-able and Instagram-worthy.

Leave it to demonetisation to ruin the fun! The bling is still there but not as bright as you'd expect. People are opting for rental designer wear and jewellery, which is easier on the pocket and gives you variety without having to spend a bomb… something no one can afford this season.

Curtains for the Cash Envelope

T'is the season when those overtly traditional cash envelopes are the most sought after commodity. Open one and you'd find amounts ranging anywhere between Rs. 11 to Rs. 5001. You wouldn't dare step on that reception stage without one.

But where's the cash? Nobody wants to really part with those precious 100 rupee notes unless they absolutely have to. Bye Bye cash envelopes and enter gift cards and vouchers!

The Credit Conundrum

Let's not forget the other side of the picture. The wedding industry itself is facing a lot of lurches as event managers, mandap decorators, caterers, florists, etc. struggle to keep their businesses afloat.

Since their clients are now inclined to make major payments by cheque and the withdrawal limits not helping, it has become difficult for these small-scale vendors to convince their labourers to work on credit

Calling it Off

Not everyone was willing to give up on their dream wedding. Either because of want of money or refusal to scale down the wedding, a lot of couples chose to push the wedding to a later date.

This was definitely not a hassle-free deal as both hosts and organisers faced tremendous loss of labour and money.

The Silver Lining

If you're wondering, after all this, what could be redeeming about this situation, pay close attention.

Weddings these days have turned into extravagant showcases of wealth and power. Not only is there a wastage of time, money and resources, the sheer amount of food and drinks being wasted and expensive gifts being exchanged is a tragedy.

Thanks to demonetisation, we witnessed a series of simple, elegant weddings with just the right amount of bling, a buffet that didn't resemble an all-you-can-eat challenge, and a venue full of people that really mattered.
Subscribe
Get unlimited investment tips.
Free Forever.